Social Optimization Introduction
To better serve you, I've complied the list of social plugins to optimize your WordPress website. There are no cookie-cutter clients in my world. I take a unique approach for your business through this module for social media optimization for your WordPress Content Management Site.
This list of plugins, services and tools when used in technical harmony with each other will allow me to connect your site in the most efficient way possible to the social media venues you use to promote your business.
Please note that this list includes a wide array of plugins so it is important to select carefully from this list for your website.
Included with the price of this module is an analysis of plug-ins that will fit your particular site.
During the optimization process I test each plugin to ensure compatibility with your theme and with other installed plugins.
The Social Optimization Module
The price for social optimization module is $300 to connect your web site with social media venues worldwide. For maintenance of plug-ins please see Monthly Maintenance Module for WordPress.
What this Module Includes:
Analysis of proposed integration of social media plugins from which you may choose.
Development work to integrate your social sites with the WordPress plugins selected for use in your WordPress site.
Make your payment by tapping on the "Buy Now" button and the journey to elevate your WordPress site to social optimization will begin.
To get this process started, please contact me using the form below:

Are you brave and want to get an idea of what type of plugins are available? Take a look through this slideshow!
Be sure to use the forward and backward arrows at the bottom of the list to see all of them.
Two of the standards I look for when going to the WordPress.org site to select plugins are:
The date "Last Updated:" (look for the most recent date) and
"Compatible up to: 4.5.3" (look for the most recent version of WordPress.)
Top-rated Plugins for Social Optimization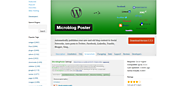 Microblog Auto Post | updates your social media accounts/profiles on each new blog post with a formatted message with backlink. You only have to configure your social network accounts like Facebook, Twitter, LinkedIn, Tumblr. Multiple Accounts per social site supported. Possibility to nicely format the update message per account, shortcodes supported.