Together We Inspire Each Other
Together we inspire each other in new and innovative ways. In a collective consciousness of creative minds miracles of artful expression come about and by so doing we enlighten each other.
If you want, you can simply view and enjoy the creations of the artist while sharing the art with your favorite social media sites.
This will be an enjoyable journey from one site to the other to participate in the creativity, showcase your work, glean what you need and enjoy what you see.
A few of the features of these sites are as follows:
Learn new skills via tutorials and design inspiration;
Vote for the design that inspires you the most;
Create your own design portfolio;
Turn your stories into content;
Be featured in galleries;
View and talk about many genres of design;
Share your processes and projects; and,
Introduce yourself to beautiful WordPress themes;
View high quality design inspiration;
Create your own mood board;
Browse, enjoy and share pics with a friend;
Get in on the best web design inspiration;
Learn ideas and inspiration from the best web designers; and,
Discover, collect and share daily inspiration and beautiful images of everything you love.
I've included a text list of these sites below the slideshow for those of you who prefer that format.

Inspire Design, Innovate and Create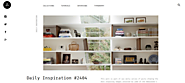 Abduzeedo Design Inspiration | Learn web design, photoshop, illustrator via tutorials and design inspiration. Our daily inspiration posts are of our daily series of posts showing the most inspiring images selected by some of the Abduzeedo's writers and users.
In List Format for Your Convenience