Free resources for color schemes are included in this post.
Good color schemes delight and spark the imagination. Like music, it sets a mood and leaves a lingering first impression on your readers and followers.
Here is a list of online color scheme tools and generators for you to find the best color scheme for you and your business. Explore them all because some have features you need but not every feature while others can fill in those needs.
I dream my painting and then I paint my dream. --Van Gogh
Video VIA Pantone Color of the Year 2016
What color schemes to you lean towards? Are you creating a new color scheme for yourself or a client? Or, are you tied into an existing business color scheme and need only to use the sites that offer "image" submission to tell you what the color is for the image or logo?
Keep it Simple Sweety is a good rule of thumb in life and in color schemes. However, when first starting out – we might over-complicate the design process and that's pretty common. Otherwise, how do we learn? If you're like me, you want to "know it all right now" when it comes to colors (which, of course is impossible – hee-hee.) I NEED a rainbow of colors in my life. They are very important to me.
The basic types of color schemes are as follows:
Complementary
Opposite colors on the color wheel are called a complementary color scheme (An example is red and green.)
Analogous
Colors next to each other on the color wheel are called an Analogous color scheme.
Triad
Three colors that are evenly spaced around the color wheel are called a Triad color scheme.
Split-Complementary
A variation of the complementary color scheme is when, it uses the two colors adjacent to its complementary color.
Rectangle or Tetradic
This uses four colors arranged into two complementary pairs and is called a rectangle or tetradic color scheme.
Square
All four colors spaced evenly around the color circle is called a Square color scheme.
Tip o' the Hat to: Christina Fowler for the free color wheel download to which I added the lines and circles for inclusion in this post.

Nov 14, 2013 - kuler.adobe.com -

136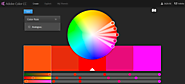 Adobe Kuler | Create color schemes with the color wheel or browse thousands of color combinations from the Kuler community.
Your calls to action are:

Check your current color scheme against the information in the slideshow.
If you don't have one, use the slideshow to dream and scheme.
Happy Color Scheming!
Save
Save
Save