Business Launch Resources
A business launch can be hard. It isn't easy to get your concept validated but if you've ever tried this yourself, you know it can be a long, hard climb to get the first users of your app or to purchase your product.
For those who have been through this or those who have not, the slideshow included in this article will give you a wide variety of ways to implement your business launch.
Use these online sites and services that help you launch or re-launch your product or business. Build your launch on solid ground with the knowledge you gain from these resources.
Included are SaaS, business forms, articles, sites, tools and other services. You are encouraged to add your SaaS, resources, hacks, tools or tips to this list.
This list also includes several platforms for equity funds, crowd funds and other types of business funding venues.
25+ Hacks, Tips and SaaS for a Spectacular Business Launch
Jul 27, 2016 - pragmaticmarketing.com -

9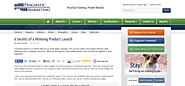 Pragmatic Marketing | A product launch is a critical time for an early stage company.
The success of the next product launch could determine your company's survival.

What are the keys to a successful launch? How can they be applied to your business?

If you live in the technology world you have probably seen big companies conducting big launches.
These are companies with large budgets and tons of resources.
As a startup you don't have that luxury and need to get as much out of your budget and resources as possible.